An exhibition of paintings and collages by an artist addressing the need for tenderness in every relationship. The opening will include a talk about the project and the book Motherhood.
(...) tenderness – that blend of delight, emotion, security and nakedness.

Bogdan De Barbaro


An exhibition of paintings and collages by the Cieszyn-based artist depicting the need for tenderness – the feeling of physical and emotional closeness which is essential in every relationship: in friendship, love, brotherhood, sisterhood, and above all, as Agula Swoboda emphasises, in motherhood.

Agula Swoboda:
You may die of starvation; and how about the lack of tenderness? I seek tenderness..., even when I'm not thinking about it. I crave it and I always have to make up for the lack of this tenderness somewhere. It is like water. I paint, and then I look for it in some strange places and in a strange way I find it. Or I find it where I least expect it. In the more expected places I usually find insensitivity. That's why I've become so attentive to it lately. And tenderness combined with attentiveness is what gives me the guarantee to survive, to melt the ice in my heart and see the living world.
One, two, Tyree – the baby snuggles up to my cheek.
Four, five, six – a hand touches my foot.
Eight, nine – I fall asleep in tenderness.
No one swears by it, no one invokes it....
And only Tenderness, fucking tenderness, brings us presence and dignity.

Recently, I have been revisiting the theme of "Tenderness", which I had already started to explore in the past. Now more than ever I am opening up to the whole series. I am showing two paintings about Tenderness and some collages on the wall of Cafe Club Aquarium in Galeria Bielska BWA - this setting will be the venue for a meeting devoted to my project Motherhood and the promotion of a book of the same title. Tenderness is connected with Motherhood as strongly as blood is with lymph. Most strongly.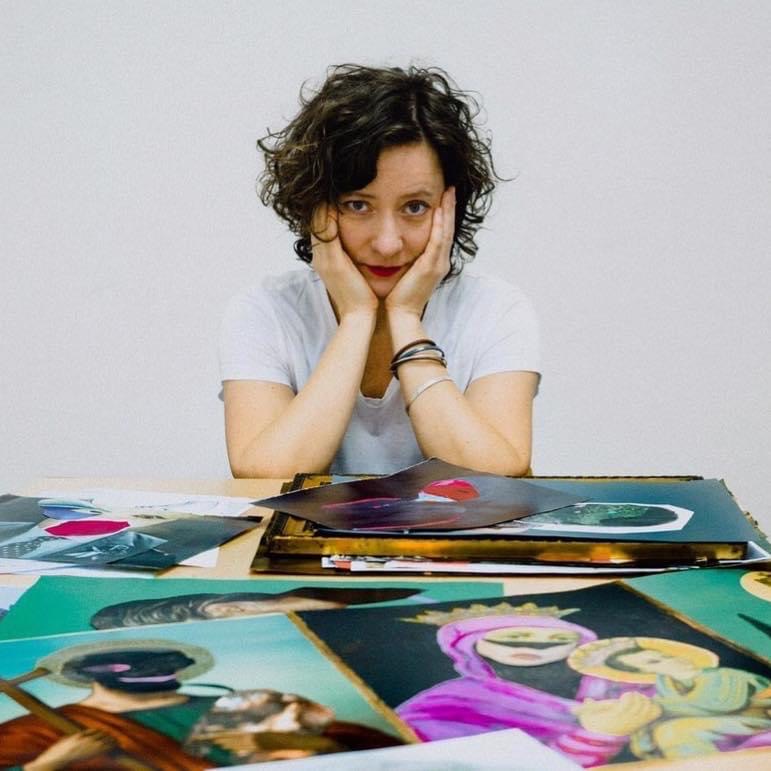 Agula Swoboda, born in 1974 in Katowice, Poland.
Graduate of the University of the West of England, Bower Ashton in Bristol and the Byam Shaw School of Art Saint Martin College of Art and Design in London.
She has been awarded scholarships from UWE in Bristol and Saint Martin in London, as well as a one-year residency from the Lancaster Foundation in Clitheroe.
Winner of the 40th Biennale of Painting Bielska Jesień 2011.
Curator of the international artistic residencies "Incydenty/Incidents" carried out in Poland, the Czech Republic, Norway and Great Britain and the MurArt Festival in Cieszyn.
Curator of the Project with an Unknown Title – exhibitions and interviews with participating artists. Co-founder of Galeria Szara and Galeria 12 in Cieszyn and the School of Art and Thinking in Cieszyn. Her works can be found in the contemporary art collections of Galeria Bielska BWA, Galeria BWA Krosno, Galeria MM, Galeria Program; in private collections in Poland, including the Starak Family Collection, and abroad.
Photo: Tom Swoboda
Solo exhibitions (selection):
2021-2022 – Motherhood, Centre for Contemporary Art Kronika, Bytom
2019 – So let's get ready for the End of the World, FPSW, Program Gallery, Warsaw
2019 – The (un)Religious Set, BWA Krosno, Krosno
2018 – One Third, CCA Solvay, Kraków
2017 – 21 Instances of Falling Asleep, BWA Rzeszów, Rzeszów, Poland
2015 – Bloodstream, Foundation for the Promotion of Contemporary Art, Warsaw, Poland
2013 – Bloodstream, Galeria Szara, Cieszyn, Poland
1997 – University of the West of England, Bower Ashton Gallery, Bristol, UK (diploma )

Participation in exhibitions and group projects in recent years (selection):
2021 – Accessible Artist Project, BWA Krosno, Arttrakt Gallery, Wrocław
2021 – My Mother, My Daughter, BWA Krosno
2020 – Afterword XIX Lemko Jerusalem Willa Gallery, City Art Gallery, Łódź
2019 – Who let the dogs out, Arttrakt Gallery, Wrocław
2016 – Show 4, Art Collection of the Bielska Gallery BWA, Bielsko-Biala
2015 – Painters, Galeria Biała, Lublin
2015 – 42nd Painting Biennale Bielska Jesień 2010, Bielska Galeria BWA, Bielsko-Biała
2014 – Selected Stories, The Bike Shed Arts Venue, Inverness, Scotland (representation of Polish artists as part of Polish Culture Week in Scotland)
2013 – Supermarket Art Fair 2013, Kulturhuset, Sergels torg, Stockholm, Sweden
2013 – 2B in Bielsko-Biała. Double pleasure from Poland, Agija Sūna Art Gallery, Riga, Latvia (representation of Polish artists in Latvia)
2013 – Cieszyn I love you from afar, Szara Gallery, Cieszyn
2008 – Border Crossing, Haven Gallery, Boston, Lincolnshire, United Kingdom

Galeria Bielska BWA, Cafe Club, Aquarium
Agula Swoboda – Tenderness, f..., tenderness
5 –30 December 2022
the opening: Monday, 5 December 2022, at 6 p.m.
and a meeting with the artist combined with the promotion of the book entitled Motherhood.

The meeting is hosted by Magdalena Ujma – an art critic, curator of contemporary art exhibitions and projects, essayist and feminist.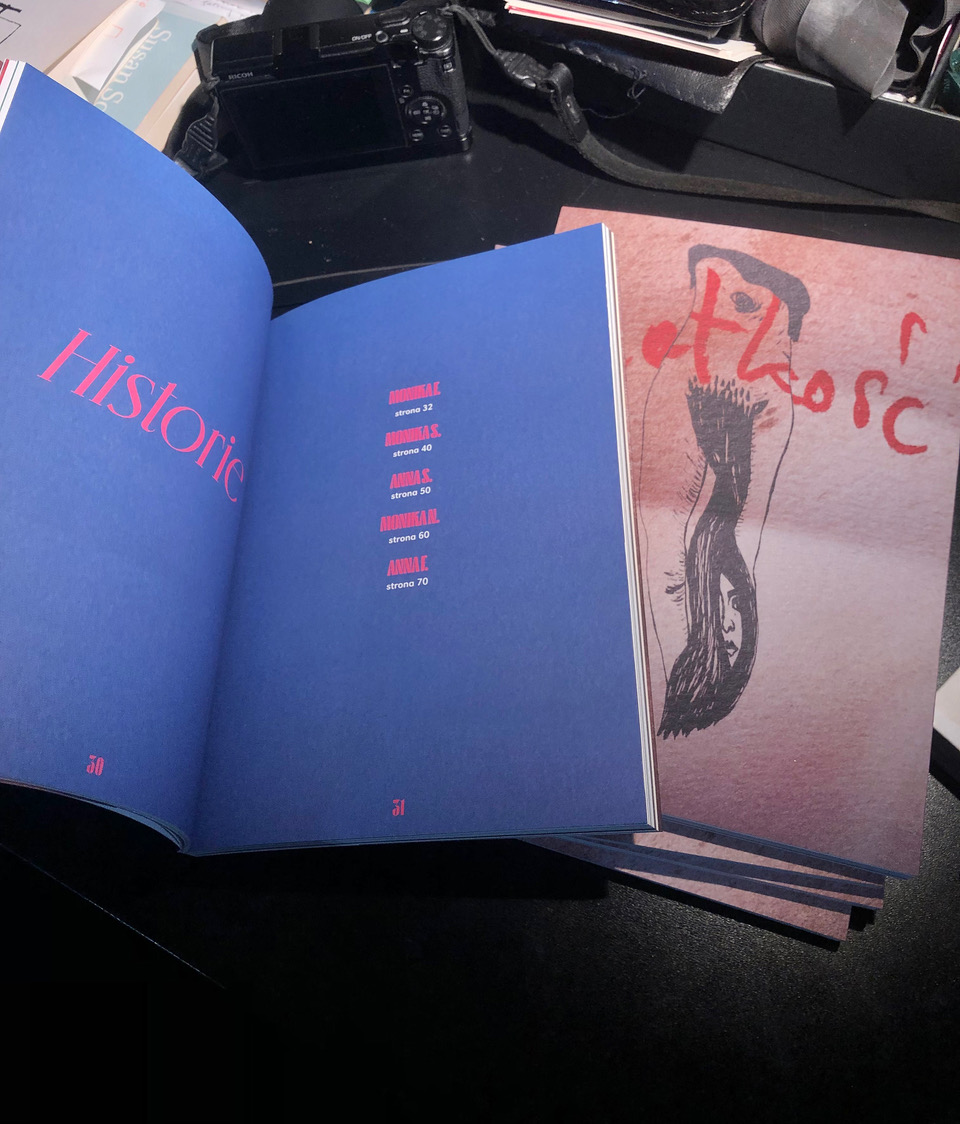 Agula Swoboda's project Motherhood was carried out in collaboration with extraordinary, courageous women, who told their stories of motherhood and their feminine resilience.
The entire project was included in a book entitled Motherhood, which includes a text by art critic Magda Ujma, Katarzyna Wojciechowska of the Green Notion Foundation and an introduction by artist Agula Swoboda. The book is, in a way, a documentation of the process of creating Motherhood. It contains photographs of the participants'meetings, the tattooing process, paintings, collages and drawings by the artist, as well as five black and white portraits of women by Tom Swoboda.
The book was published in 2022 by Fundacja Zielone Poję, by Marcin Wysocki (CCA Kronika).

Media patrons: wysokieobcasy.pl; Gazeta Wyborcza.

Pictured: Cover and fold-out of the book, design by Marcin Wysocki