Two years after winning the Grand Prix at Bielska Jesień 2017, Sebastian Krok embarks on a new project which provides affirmation of the world perceived from the perspective of a hoodie, a man of a block.
Mental Pearl Harbor is the latest exhibition by Sebastian Krok, the winner of the Grand Prix at the 43rd Painting Biennale Bielska Jesień 2017, in which the artist continues to explore the theme of pressing social problems.  The exhibition is curated by Stach Szabłowski.

Agata Smalcerz:
Innovative in both form and content, the work of Sebastian Krok deals with the most current and often pressing issues. The artist uses traditional painting techniques, but prepares his groundwork in a non-conventional way. He stretches a piece of canvas or worn out fabric (such as a hospital bed sheet) on an irregular frame and covers it with a thick layer of car varnish, or sometimes uses a piece of a car body as the base for his painting. Such groundwork provides an ideal backdrop for his visual representations of contemporary iconography. He paints figurative genre scenes showing inhabitants of present-day housing estates, a social environment he is well familiar with. He deals with such issues as alienation, lack of family ties, and doubts about traditional values which are supposed to form the basis for social relationships. Through his art, Krok shows a conscious approach to his own identity, as well as expressing tolerance for different views.

 Sebastian Krok:
The exhibition strives to draw the world's attention to the typical young resident of a block of flats, often rudely referred to as a hoodie. A hoodie is of no interest to intellectual elite circles. Instead, he has become a butt of jokes, including Internet memes, for the aspiring middle class. And yet, a hoodie has his dignity, feelings and dreams. Living in a world of contempt, he builds his dignity on the familiarity of his own world and identity. "Mental Pearl Harbor" is an affirmation of the world perceived from the perspective of the "man of a block". Various limitations bring him down to earth, and reduce to mediocrity. And yet, he manages to process this mediocrity into something unique and refreshingly honest – his own reality, his Mental Pearl Harbor.

Stach Szabłowski, curator :
"Mental Pearl Harbour" is unfolding right before our eyes, here in Poland. We are the fast and the furious, and we want to be even faster. We drive cars. In the American dream, the car was a symbol of freedom. In Poland,  we prefer German-made cars – and we don't sleep. If you own a car, you can go wherever you want, except we're going nowhere. Our dream has come true and there is nowhere to go; now it's only home sweet home.

The exhibition of Sebastian Krok is like a Polish landscape viewed from a car window, or rather  reflected in the shiny body of a car. Instead of canvas, the artist chooses to use engine bonnets. Some have been damaged in accidents, others are quite rusty, but it's OK. Dents can be tapped out and smoothed, holes refilled and the entire bodywork repainted. The shiny varnish surfaces reflect suburban shopping centres, "off-licences" that are open 24/7 and LED neon light OPEN signs drawing shoppers from all corners of the town. It is a landscape swarming with people and other creatures, especially "ladybirds" and "frogs", which Polish supermarket chains refer to in their names; in this land fists are clenched, beer has a royal taste, police patrol cars travel on tow trucks, dragons are inflated, samurai cursed, dogs used for personal protection, and Jesus is the tallest in the world.

In the midst of this landscape painted on car bonnets which line the gallery walls like steel coats of arms the artist places a car. Its brand is Bavarian, registration Polish. The vehicle has been brought back to life in a garage in the heart of the country in southern Mazovia. Sebastian Krok transforms the motor vehicle into a painting, thus achieving a hundred-percent realism in a landscape so real that it appears almost unreal.

In "Mental Pearl Harbour", Sebastian Krok juxtaposes blunt poster-like expression with psychedelia and abstraction. The car transports the viewer into areas where the boundary between critical realism and pure painting begins to blur. The artist uses car bodies as platforms for unexpected meetings. In this realm, traditions of abstract painting mix with the aesthetics of paint shops and garages where cars are tuned up for illicit races. Characters from file stocks and archival photographs accompany the logos of popular retail chains. Violence is placed side by side with attributes  of childhood imagination. The artist depicts a world in which the modernist principle of "less is more" no longer applies. More is more, plain and simple. In Krok's universe, a Star Trek spaceship circles above the heads of cursed soldiers, a hussar morphs into a samurai, and an Uber Eats courier rides his bicycle straight into a dragon's mouth. The colour ranges look as if they were inspired by psychoactive substances, but as Sebastian Krok assures, this altered state of mind that is presented at the exhibition will not disappear when we wake up the next morning – this is now a permanent state in Poland.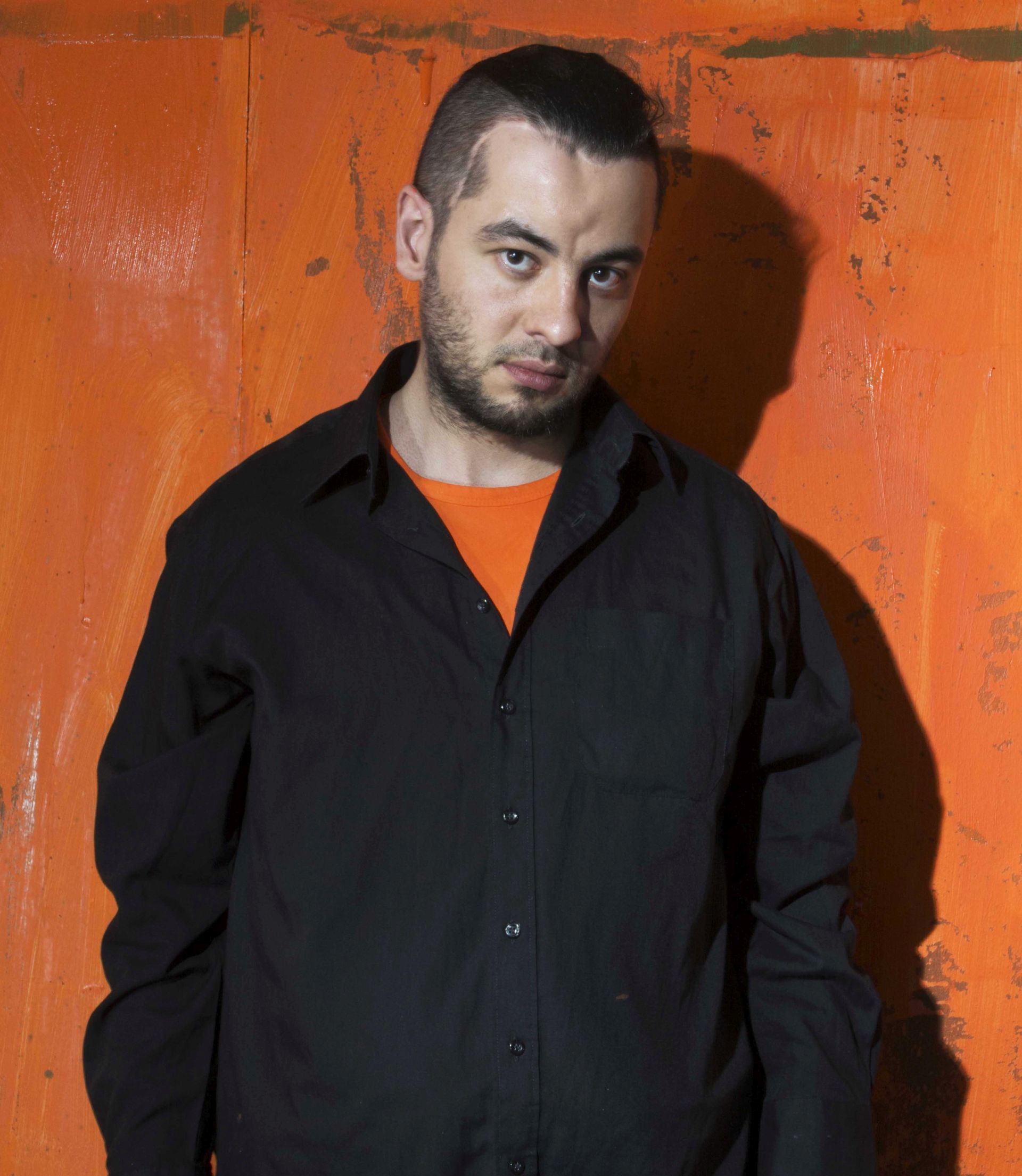 Sebastian Krok – born in 1985 in Radom. A graduate of the Academy of Fine Arts in Warsaw; honour's degree in painting under Professor Leon Tarasewicz (2014). Grand Prix at the 43rd Painting Biennale Bielska Jesień 2017; Grand Prix at the First International Festival of Art Schools, Albertina FiSAD 2015 in Turin (Italy); Grand Prix at the 25th National Painting Competition for Young Artists PROMOTIONS 2015 in Legnica, Poland; honourable mention at the Franciszka Eibisch Competition (2014); Award of the Professor Józef Szajna Academy of Fine Arts in Warsaw which was sponsored by the Fund for the Promotion of Creativity at the ZAIKS Association of Authors (2010); entered the top 20 in the Young Art Compass 2018. Currently an assistant lecturer in the Painting Department run by Professor Leon Tarasewicz.

Solo exhibitions: Grywalizacja / Gamification at Galeria m² in Warsaw (2018/2019); Corp Us at Galeria m² in Warsaw; Human Resources at Galeria Sektor I in Jaworzno; Ene, due... at Puławska Galeria Sztuki POK Dom Chemika in Puławy (2017); Eus Deus Kosmateus at Galeria Sztuki in Legnica (2016); La Petite Mort at the  Gallery of the Contemporary Art Foundation in Warsaw (2013).
Selected group exhibitions: PDP Orkiestra Spokojna Tour Now at MSW in Kraków MOCAK (2013); Gdzie jest malarstwo? at Galeria aTAK in Warsaw (2012); No Budget Show vol.3 at Galeria Kordegarda in Warsaw (2011).

Stach Szabłowski – born in 1973. Art historian, curator and critic, publicist. Degree from the Institute of Art History at the University of Warsaw.
                    ***
The painting biennale Bielska Jesień this November will coincide with the publication of Mental Pearl Harbour. The album containing photographs by Michał Szlaga, also features essays devoted to the work of Sebastian Krok by Jagna Domżalska, Marta Lisok and Stach Szabłowski.
______________________________________________________________________________________

Solo exhibitions of the work by Grand Prix winners of the Painting Biennale Bielska Jesień have been organized by Galeria Bielska BWA since 1996 as a form of the Gallery Director's Award. This exhibition, presenting the artist's latest work, will be accompanied by a catalogue with reproductions of and critical texts devoted to the work of Sebastian Krok.  

The exhibition runs from 6 September to 10 October, 2019.
Vernissage: Friday, 6 September, 6.30 pm.

For more information visit the artist's website  >>