Dreamy, mysterious, supernatural, and yet often focusing on everyday life, Teresa Szwiertnia's paintings are like a "guide to extraordinary places".
Teresa Sztwiertnia:
8 February, 2021: Marie and the Prince from my favourite childhood story "The Nutcracker" by E.T.A. Hoffman travel through a fur-coat sleeve into a fabulous land. I used to read and reread this story many times, and I knew some bits, especially the one describing the journey through the sleeve, by heart.
I consider myself a latter-day Marie, except that I "write" my guide to extraordinary places through my paintings. Sometimes, while seeking Beauty, I am stuck in the sleeve or fall into the coat pocket; but the goal of my pursuit remains the same.
Hence the title of the exhibition: "Hidden". I keep looking, but never know what I'll find...
I intend to show 25-30 paintings created mainly in the last ten years.

"Hidden" is an exhibition of works by a local artist whose style is often described as magical realism. Szwiertnia's magical, dream-like paintings reflect her daily experiences. The book, which will accompany the exhibition, contains reproductions of the presented paintings, as well as a series of prose poems, stories and drawings by the artist. The exhibition features about 30 paintings created in the last ten years and several older works.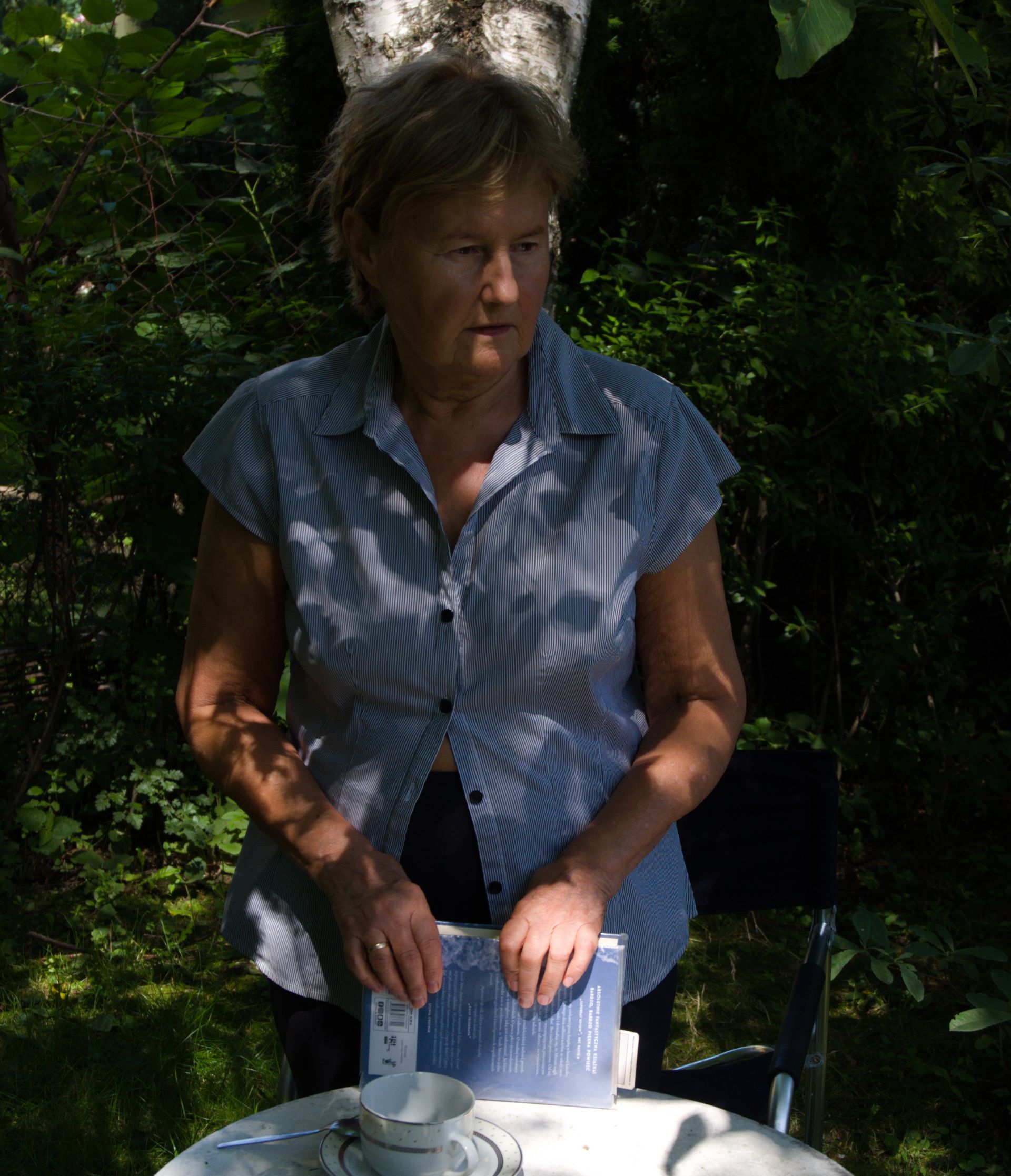 Teresa Sztwiertnia was born in 1949 in Bielsko-Biała. She is a graduate of the Academy of Fine Arts in Kraków, Faculty of Graphic Art in Katowice; degree in painting in 1974 under Professor Andrzej S. Kowalski and in lettering under Professor Stanisław Kluska.
After graduation, she was temporarily involved in artistic education: in 1974–78 she worked as an assistant at the Institute of Art Education in Cieszyn at the University of Silesia in Katowice, in 2005 – 09 at the Faculty of Psychology and Pedagogy at the University of Technology and Humanities in Bielsko-Biała; in 1981–86 was professionally associated with Galeria Bielska BWA (then officially called the Bureau of Artistic Exhibitions in Bielsko-Biała).
She is a three-time winner of the Scholarship of the Ministry of Culture and Art in 1976, 1984 and 1991, winner of awards and honourable mentions in the National Painting Competition "Bielska Jesień". These include: the Mayor of the City of Bielsko-Biała Award (1980), the Gold Medal (1984) and the Award of the Department of Culture and Art of the Municipal Office in Bielsko-Biała (1985); winner of the Władysław Szostak Award for artistic activity (1985), twice nominated for the "Icarus" Award of the Mayor of the City of Bielsko-Biała in the field of culture and art (2002, 2012); winner of the First Prize in the 4th Festival of Visual Arts in Bielsko-Biała in 2018 which was funded by the Mayor of Bielsko-Biała. She has been a member of the Association of Polish Artists and Designers since 1978.
The artist's main pursuits include magical realistic painting, as well as literary journalistic activities. Her written works have been published in a number of newspapers and magazines including Formacja, Nowa Galicja and Gazeta Wyborcza. She lives and works in Bielsko-Biała.

The photograph shows Teresa Sztwiertnia, photo by: Witold Adamczyk.


The artist has staged and participated in numerous solo and group exhibitions including:
BWA,Galeria Bielska BWA, Bielsko-Biała, solo exhibitions: 1981, 1991, 1998, 2009
Galerie Mme Suillerot, Paris, France, 1985
Galerie Treffpunkt, Mannheim, Germany, 1986
Galeria Fra Angeliko, the Archdiocese Museum, Katowice, 1992
Galerie Café Art, Gelnhausen, Germany, 1997, 1998
Galerie Rathaus, Lilienthal, Germany, 1997
Galerie Kreutziger, Worpswede, Germany, 2003
The Visual Arts Festival, Galeria Bielska BWA, the Historical Museum in Bielsko-Biała, ZPAP Gallery, B&B Photography Gallery: 2007, 2011, 2014, 2018
Galeria Bielska BWA, "Other Places", solo exhibition, 2009
Art Gallery, Turin, Italy, solo exhibition, 2010
Acit Venedig, Kunstler im Schaufenster, Venice, Italy, 2012
Galeria Witryna, Lublin, solo exhibition
The Municipal Community Centre, Czechowice-Dziedzice, solo exhibition, 2013
Agija Sūna Art Gallery, "2B in Bielsko-Biała. Double Pleasure from Poland", Riga, Latvia, 2013
70 years of the Polish Artists Association in Bielsko-Biała, Galeria Bielska BWA, Historical Museum in Bielsko-Biała, Galeria ZPAP, Galeria Fotografii B&B, 2015
Galeria ZPAP, Bielsko-Biała, joint exhibition with Piotr Kutryba, 2017
Culture Centre, Baia Mare, Romania, International Art Exhibition, 2017
75 years of the Polish Artists Association in Bielsko-Biała, Galeria Bielska BWA, Historical Museum in Bielsko-Biała, Galeria Fotografii B&B


Galeria Bielska BWA, ground floor, 3 September– 3 October, 2021
Opening: Friday, 3 September 2021, 5 pm

Works of Teresa Sztwiertnia in the Art Collection of Galeria Bielska BWA >>

Award Winning artists of the 4th Festival of Visual Arts 2018 in Bielsko-Biała >>
The exhibition is part of the programme of the celebration of the 70th anniversary of the merger of Bielsko and Biała