This new exhibition reveals the latest fascination of Piotr C. Kowalski, i.e. beaver watching. The artist tracks these clever mammals as they pursue their creative work. The exhibition features an installation with beaver-made sculptures and a number of paintings created by nature.
Piotr C. Kowalski started his artistic career with classic landscape painting and then moved on to create "nature art" – his canvases splashed with rain and buffeted or torn by the wind. In the early 1980s, he decided to replace traditional art paints with natural dyes extracted from blueberries, cherries and other fruit. He also spread pieces of canvas on the ground to allow mammals and birds to leave their footprints on the fabric. The exhibition in Galeria Bielska BWA shows the artist's latest fascination which is watching beaver families in their natural habitat.  

Agata Smalcerz:
Piotr C. Kowalski has long been using nature in his work. Splattered with forest fruit juices, his canvases are then left exposed to the rain, snow, fallen leaves, animal footprints, etc. Others are placed on city pavements for people to trample on (Walk-throughs) or by a roadside where they get splashed by the cars (Drive-throughs). There are also Cut-throughs, Rusties and Smokies – all hinting at the painting technique used by the artist who humbly admits that he only assists in the creation of the artworks. Also deserving mention is the cycle Frosty Paintings which the artist created with Joanna Janiak. The idea was to expose the canvas to subzero temperatures and let Jack Frost do the artwork. The new exhibition shows Kowalski's latest fascination in beavers and their sculpting skills. The rodents use their long incisors as chisels to give the felled trees their characteristic shapes. Among the works is an installation courtesy of a family of beavers who have found home in the artist's countryside property in the region of Wielkopolska. The collected artefacts will be supplemented with photographs, videos, as well as additional objects and paintings from the series "Saws". One of them, "Saw no. 2", shows rust marks on canvas and an assembly of stickers, photos and documents on the flip side, all related to the campaign to stop the logging of the Białowieża Forest. The painting was presented at the 44th Painting Biennale Bielska Jesień 2019.


Piotr C. Kowalski:
Beavers first appeared in our village of Nienawiszcz seven years ago.
Now the landscape is constantly changing.
The beavers are there, even though they can't be seen, heard or smelled.
But they will certainly be present at the exhibition BEAVERING AWAY in Bielsko-Biała.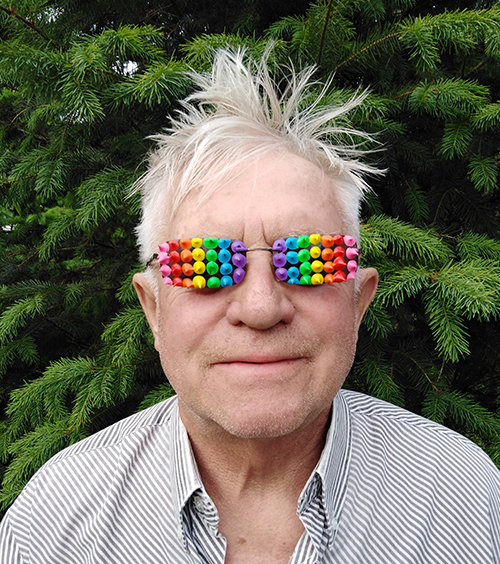 Piotr C. Kowalski. He was born in 1951 in Mieszków near Jarocin; graduate of the State College of Fine Arts in Poznań (now the University of Arts); degree in painting under Professor Stanisław Teisseyre (1978); full professor. Between 2010 and 2014, he headed the Department of Painting  at the Faculty of Painting and New Media of the Art Academy in Szczecin, and then the Painting Studio at the Academy of Fine Arts in Wrocław (2014 – 17). Currently, he runs the 10th Painting Studio at the Faculty of Artistic Education and Curatorship at the University of Arts in Poznań and at Collegium da Vinci in Poznań.
He is the winner of numerous awards and honourable mentions, including the 2nd prize at the 33rd Polish National Exhibition of Painting Bielska Jesień'97 which was organized by Galeria Bielska BWA (1997), and an honourable mention (with Joanna Janiak) in the 40th Bielska Jesień exhibition (2011). He is the author of the series Megabytes of Paintings and Frosty Paintings which has been creating with Joanna Janiak since 2004.

Over 60 solo exhibitions, most recently: "My Archeology", at the Institute of Archeology, Adam Mickiewicz University, Poznań (2019), "In unserem Garten", Stiftung Fürst-Pückler-Park, Bad Muskau – with Joanna Janiak (2017), "Transitional Paintings, Grünberg – Zielona Góra", The Museum of the Lubusz, Zielona Góra (2017),"Frosty. Paintings and Sound Space", M. Karłowicz Philharmonic, Szczecin (with Joanna Janiak and Rafał Zapała (2017), "Sehr wichtige Ausstellung II", Museum Junge Kunst, Frankfurt O. (2016), "Z miłości Rzeczy / The Nature of Things", BWA Warsaw – with Joanna Janiak (2015), "Tasty Paintings", Gallery of the Opole Silesia Museum, Opole (2014), "Universal, Local and Home Paintings", MCSW Elektrownia, Radom – with Joanna Janiak (2012). He has also presented his works at several hundred group exhibitions. 

More information and photographs on the artist's website >>

Opening exhibition: Friday, 7 February, 2020, at 6.30 pm.
The exhibition runs from 7 February until 1 March, 2020.
 
ACCOMPANYING EVENTS

Tuesday, 11 February, 2020, at 5 pm
Open tour of the exhibitions of Piotr C. Kowalski and Ireneusz Walczak.

Viewers will be guided by a couple of art historians from Galeria Bielska BWA: Agata Smalcerz and Ada Piekarska.


Wednesday, 19 February, 2020, at 6 pm, free admission
A Secret Life of Piotr C.  – lecture delivered by Marta Czyż on the creative work of Piotr C. Kowalski.
Meeting with the artist.

Marta Czyż – art historian, curator of exhibitions, author of numerous essays on contemporary  art.


BEAVER DAY  – Thursday, 20 February, 2020
at 1 pm.
A series of workshops run by Piotr C. Kowalski.

at 3 pm
Beaver Fever in Krasnogruda – educational pathway.
Presentation by Jacek Bożek from the Gaia Club