AN OVERVIEW OF PARANORMAL SOCIAL AND NATURAL PHENOMENA FOR CHILDREN AND ADULTS.
Sławomir Rumiak's THE MEANING OF LIFE. AN OVERVIEW OF PARANORMAL SOCIAL AND NATURAL EVENTS FOR CHILDREN AND ADULTS is an exhibition of photographic works forming part of several thematic installations. The exhibition will be accompanied by an installation inspired by the 1973 book "The Secret Life of Plants" by Peter Thomson – an example of the enduring success of so-called pseudo-scientific literature. Also on show is a satirical installation that is a direct reaction to the current geopolitical situation and the recurring theme of international agrarian politics, in this case agrarian propaganda or so-called 'food wars'. The main element of the installation 'Beautiful Johnny versus the rest of the world' is an actual rally of legume-powered vehicles taking place in the gallery during the exhibition.
The event is curated by Agata Smalcerz.

Sławomir Rumiak:
The biologist Lynn Margulis wrote:
"When science and culture are in conflict, culture always wins."
Knowledge is prescribed by culture; what reaches society is already very much a product of culture. Laboratory arcana lose out to grand narratives, with the ambition to shape a complete picture of the world.
The poetics of so-called pseudoscience, all kinds of conspiracy theories, mystical narratives, political propaganda, etc., has been a source of much enlightenment and undying joy for me, which I would like to share with you in the forthcoming exhibition.

Agata Smalcerz, curator of the exhibition:
"Following the exhibition by Jerzy Nowosielski and Stanisław Niemczyk, the exhibitions by Olaf Brzeski and Slawomir Rumiak at Galeria Bielska BWA represent yet another encounter. This time, the exhibition consists of two separate presentations in both gallery rooms, of artists whose mutual influence on each other's work has existed for a long time. The subject matter of their latest works can be related to the broad spectrum that stretches 'between home and the cosmos."
The exhibition THE MEANING OF LIFE will feature works combining various media, from drawing, photography, video, infographic elements to mobile objects with living organisms. Some of the works have been created in collaboration with the artist's wife, Japanese designer Kanon Myokoin.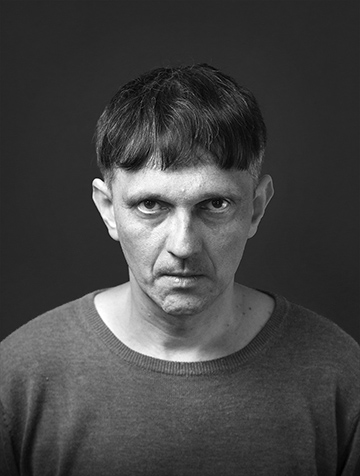 Sławomir Rumiak – was born in 1972 in Bielsko-Biała. He is a photographer, visual artist, graduate of the Katowice branch of the Academy of Fine Arts in Kraków (1999). He has gained recognition for his photographic series, including the Prêt-à-Porter project (2004), which consisted of a series of images of women full of references to both art history and the commercialised, objectified image of women in mass culture. In 2007, as part of the work Wyjazd, he cycled the route from Poland to Venice, sleeping at campsites inside a miniature of the Polish pavilion at the Venice Art Biennale, which he had created himself. The artist is well known in Japan – he has cooperated with a number of artistic institutions including the Tokyo galleries Il Tempo Gallery and Zeit Foto Salon, published his works in Japanese photography magazines, and lectured at the local universities. He has curated exhibitions of Japanese art in Poland: "Simon Yotsuya and friends, or Bellmer in Japan" (2010, Kronika Centre for Contemporary Art in Bytom, Silesian Museum in Katowice) and "Atokata", a solo exhibition by Kishin Shinoyama (2012, Gallery of Contemporary Art BWA in Katowice). During his residencies in Brazil and Poland between 2014 and 2017, he teamed up with Brazilian photographer Cristiano Mascaro to produce an artistic project entitled "Traces of People". The Polish premiere of Rumiak's video project entitled. "Macunaima returns to Sao Paulo" took place at the International Cultural Centre in Kraków in 2015. The Brazilian premiere was shown at Instituto Tomie Ohtake in 2017.
In recent years, the artist has spent most of his time in the forest, working with living organisms.

Pictured: Slawomir Rumiak

Sławomir Rumiak's works in the Art Collection of Galeria Bielska BWA >>

Read about the ongoing exhibition: Sławomir Rumiak and Kanon Myokoin – "Seed", Galeria Bielska BWA, Sixt's Villa, basements, 01.02.2021-30.09.2023 >>


Galeria Bielska BWA
10 March – 16 April 2023 (upper room)
Sławomir Rumiak – THE MEANING OF LIFE.
AN OVERVIEW OF PARANORMAL SOCIAL AND NATURAL PHENOMENA FOR CHILDREN AND ADULTS.
Curator – Agata Smalcerz
Opening and curated tour: Friday, 10 March 2023, at 6.30 p.m.


Olaf Brzeski – "Wish"
10 March – 16 April 2023 (ground floor). Read more >>