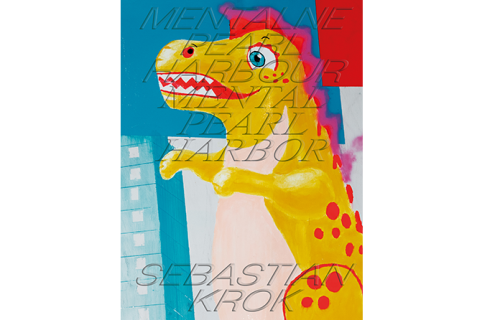 Polish-English book accompanying the exhibition "Sebastian Krok. Mental Pearl Harbour".
The exhibition (Galeria Bielska BWA 6.09-6.10.2019) and catalogue are a form of award presented by Director of Galeria Bielska BWA to the winner of the Grand Prix – the Minister of Culture and National Heritage Award at the 43. Biennial of Painting Bielska Jesień 2017.
The publication contains critical texts about the artist's work by Stach Szabłowski, Marta Lisok and Jagna Domżalska.
Concept: Stach Szabłowski, Sebastian Krok
Editor: Stach Szabłowski
Translations: Jarosław Fejdych
Photographs: Michał Szlaga
Graphic design: Mateusz Zieleniewski, Sebastien Millot
Soft cover; 26,5 x 20 cm; 8o pages
Print run: 500 copies
Printed by: Tolek sp. z o.o., Mikołów
Publishers: Galeria Bielska BWA, Academy of Fine Arts in Warsaw