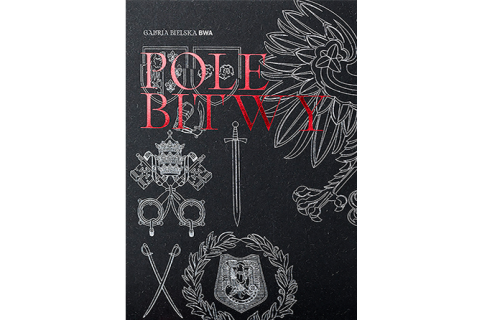 Polish-English catalog of "Battlefield" exhibition with texts by Ada Piekarska – the curator, Przemysław Wielgosz, Liliana Piskorska and Aleksy Wójtowicz, as well as rich photographic documentation of the exhibition.
The exhibition, presented at the Bielska BWA Gallery, from December 4, 2020 to March 14, 2021, dealt with the issue of the dispute over signs and symbols and the ways of talking about history.

Curator: Ada Piekarska

Exhibition participants: Paweł Baśnik, Piotr Bujak, Maciej Cholewa, Katarzyna Górna, Karolina Jarzębak, Robert Kuśmirowski, Nikita Krzyżanowska, Kasper Lecnim, Jan Możdżyński, Dominika Olszowy, Liliana Piskorska, Irmina Rusicka, Mikołaj Sobczak, Stach Szumski.

The exhibition and the accompanying catalog were co-financed by the Minister of Culture and National Heritage from the Culture Promotion Fund.
Publisher: Galeria Bielska BWA
Editior: Ada Piekarska
Graphic design and typesetting: Maciej Wodniak
Proofreading: Barbara Swadźba
Translations: Jarosław Fejdych, Ewa Bodal, Szymon Nowak
Photos from the exhibition, reproductions of works: Krzysztof Morcinek
Printing: Dimograf
Print run: 500 copies
Format: 25 x 17.5 cm, soft cover, sewn catalog, 100 pages